LEADING IMPORTER AND SUPPLIER OF
Chemical Raw Materials
INTO THE SOUTH AFRICAN MARKET

NuVest Chemicals (Pty) Ltd is a leading importer and supplier of chemical raw materials into the South African market and offer our services and products to the Southern African region.
Our wide range of products comprises of both specialities and commodities that are sourced from both international and local producers on an exclusive and non exclusive basis. By working closely with our Suppliers we are able to provide high quality and competitive products backed up with the required technical support.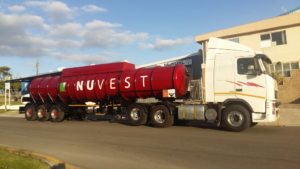 Nuvest Chemicals (Pty) Ltd was established in 2012. We are committed to providing exceptional service to meet and exceed the high expectations of our customers. Our international network enables us to supply quality products at the most competitive prices and to maintain a very reliable and flexible service at all times. Our objective is to remain a dominant distributor of chemical raw materials within our markets by providing competitive pricing, top quality products and world class service. We have a client base that expanse the whole Southern African region. Our client base is ever expanding as we continue to forge new partnerships in the industry.